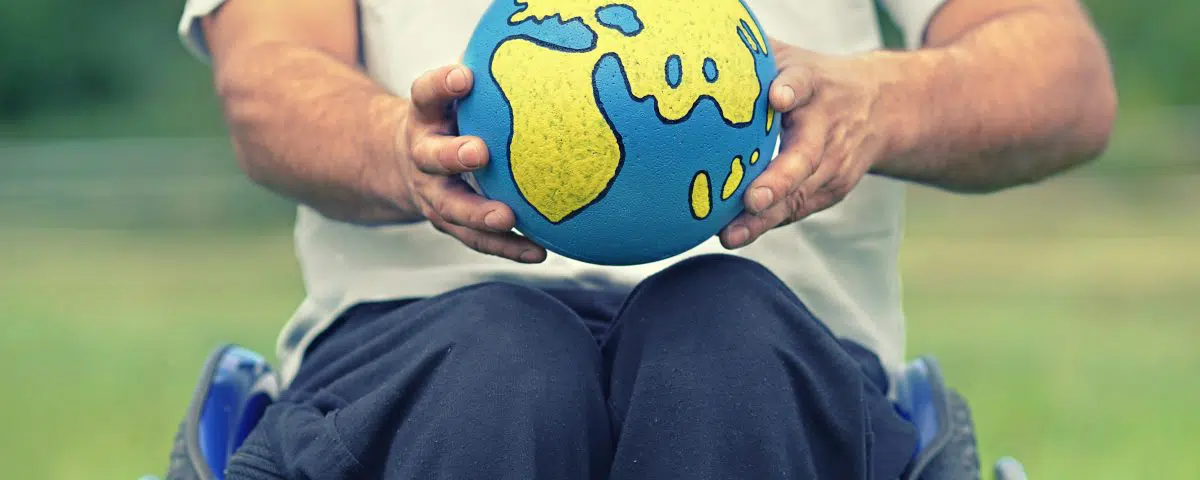 Flying has become easier for individuals with disabilities thanks to the Air Carrier Access Act. ACAA was designed to prohibit any discrimination against passengers with disabilities by air carriers. It was meant to open the skies and the world to persons regardless of any physical or intellectual disabilities. Although there is a great deal of work that must be done to enforce the law, it has still improved the way travelers with disabilities are treated. If you prepare in advance with these tips, you're more likely to have an easier, less stressful flight.
Before Boarding
Plan ahead. This may seem simple but be sure that you have your reservations in order as far in advance as possible. When booking, be sure to notate any special requests. It's never a bad idea to call the airline to speak to someone regarding your mobility needs. In addition, you should organize travel information so that you have it easily available throughout your travels.
Call the doctor. Make sure that flying will not affect your health. Be sure to get prescriptions filled-you will want to pack those on your carry on. Ask your doctor if they have recommendations for emergency contacts in your destination. If your doctor does not know any, it's worth searching online and asking friends so that you have someone to reach out to should a situation arise while traveling.
Confirm, confirm, confirm. You can't talk to too many different airline officials to confirm that your needs will be met and ask any questions you have. You can call the airline directly at the number listed on their website.
Prepare your wheelchair. Be sure that your chair is in good shape for travel and have an emergency repair kit just in case.
At the Airport
Arrive early. On the day of your flight, you should arrive extra early to go through security and be sure that all necessary equipment is in order. Any equipment that will be taken from you in flight should be tagged with your contact information.
Obtain a luggage claim receipt. Your wheelchair will be checked with other luggage, so be sure you have a receipt to claim your wheelchair.
Work with the TSA. If you cannot walk through a metal detector, be sure to notify a TSA agent so that you can be hand wanded. If you have any sore or sensitive areas on your body, be sure to alert the agent. You are allowed to have a private screening with a companion of your choice there.
Make your boarding requests known. Right before and as you board, be sure to notify crew members of any special needs or requests you may have during the flight.
Remove pads as you board. Padding like seat cushions and leg supports don't tend to travel well with other luggage. Bring a bag with so you can remove these from your wheelchair as you are boarding, and your wheelchair is taken.
Ask about the bathroom. It's a good idea to use the restrooms before you board as many lavatories marked as accessible are still quite small and difficult to maneuver in. Ask the desk attendants at the gate for more details.
Prepare for layovers. If you are going to have a layover, ask that your own equipment is returned while you are in the airport. This will keep you independent and mobile and lessens the risk of damage to your equipment.
In Flight and After Landing
Speak with the crew while in flight. Remind the flight attendants that you need your equipment brought to the gate. If you do this before you land, the crew can communicate with gate officials ahead of time to make those arrangements.
Communicate. If something goes wrong during the flight, you'll want to be sure to speak up so that you and other travelers hopefully don't face the same difficulty again. If you experience inaccessibility during travel, ask to speak to a Complaints Resolution official. You can also file a written complaint within 45 days of the incident. The airline is required to respond within 30 days.
If you have any questions, you can always contact your airline. Each airline needs to follow the Air Carrier Access Act, which covers access on all flights to and from the United States. In addition, you can call the US Department of Transportation with any questions related to transportation.
Plan Ahead for Accessible Transportation
Most airport and hotel shuttle providers will have wheelchair accessible vans equipped with a lift (but not all in their fleet). Make sure to let them know ahead of time that you are using a wheelchair and will need to have an accessible van when getting picked up. NEILS is happy to provide information about disability-related issues, resources, and services to individuals with disabilities. We also provide referrals to other agencies or service providers. If you or someone you know is having difficulties locating a resource that can assist them with their needs, NEILS can help! Call us at 573-221-8282 or stop by 909 Broadway, Suite 350, in Hannibal.