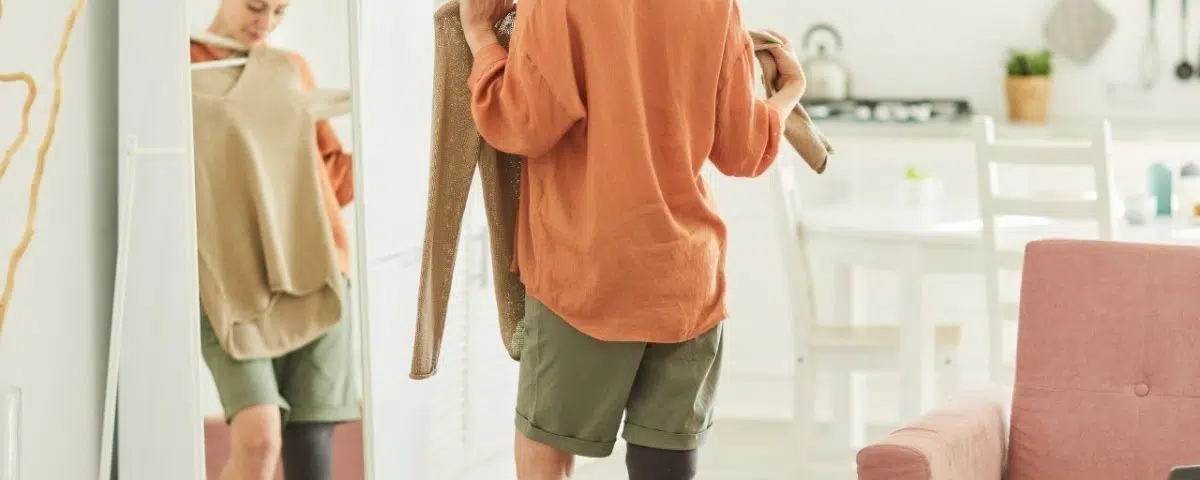 Whatever the reason you may have reduced mobility or fine motor skills, it is not ok to not be able to wear comfortable and stylish clothes that make you feel good about yourself. Off-the-rack clothing can be difficult to buy because of small buttons or snaps, small openings that make it hard to go over your head or to get your arms in the armhole, or fabric that is irritating or uncomfortable. Read on to learn about options for your comfort and style.
Let's start with outerwear. Obviously, a warm coat is essential for winter, and finding one you can get in and out of with ease, that keeps you warm and protected from the elements is essential. You have some options depending on your particular set of challenges. Here are just a few ideas:
Wheelchair coats

– these are warm, voluminous coats designed to fit over you as well as your wheelchair. They can be waterproof, cover only the bottom or top of your body, or the whole thing. Depending on the season, you should be able to find exactly what you need. 

Adaptive winter coats

– these coats fit like a normal coat but offer easy closure and opening with velcro, magnets or easy zipper pulls. 
Daily clothes and underwear need to be convenient for you to put on and take off. Your independence heavily relies on your ability to choose your own clothing and dress yourself. Here are some ideas for adaptive clothing worn daily:
Adaptive tops and pants

– this company offers cute clothes for all types of needs. Seamless, amputee, wheelchair-bound, low mobility – they have it all. They offer clothes for both men and women as well as different payment options. 

Adaptive Underwear

– finding adaptive underwear is hard – most of it is ugly but serves its purpose. This company offers some slightly cuter options for both men and women as well as swimwear!
Footwear – oh the feet are definitely important, even if you don't walk. What outfit is complete without a cool pair of shoes? If you can't get into and out of an off the rack pair of shoes, check out some options I have sussed out below:
Zappos

– they offer a wide range of adaptive shoes in every category and word to the wise – their shipping is lightning fast. 

Friendly Shoes

– offers sneaker-type shoes with easy on and off functions. Designed to help with mobility by offering space for orthotics, you'll want these shoes if you need good-looking and accommodating footwear. 

Nike Go Flyease

– these shoes are hands-free with the expected style and flash of a Nike product. 
Sadly, there aren't a plethora of adaptive clothing options out there. Some big brands have acknowledged the need, but not nearly enough. There is the option of buying off-the-rack clothes and having a handy sewer in your life upgrade those clothes to be adaptive, and there are already people on Etsy making those changes for you. There seems to be a more modern selection of clothing there, and if you can build a relationship with an Etsy seller you can likely get all sorts of special adaptations made to clothes of your choosing. 
As always, if you need more help, contact us here at NEILS! Making life easier for the elderly and disabled is our passion and we are always just a phone call away!